1 / 11 / 18
Cleaning Up A Man Of Note


Menswear And Side Part Enthusiast, Jon Cavaliere
Local men's style influencer and all around nice guy, Jonathan Cavaliere, dropped by to get his side part retuned. Naturally, we picked his brain about his go-to cut and why wearing nice clothes matters. Plus, our shop manager Jared Quast on how to get Jon's hairstyle.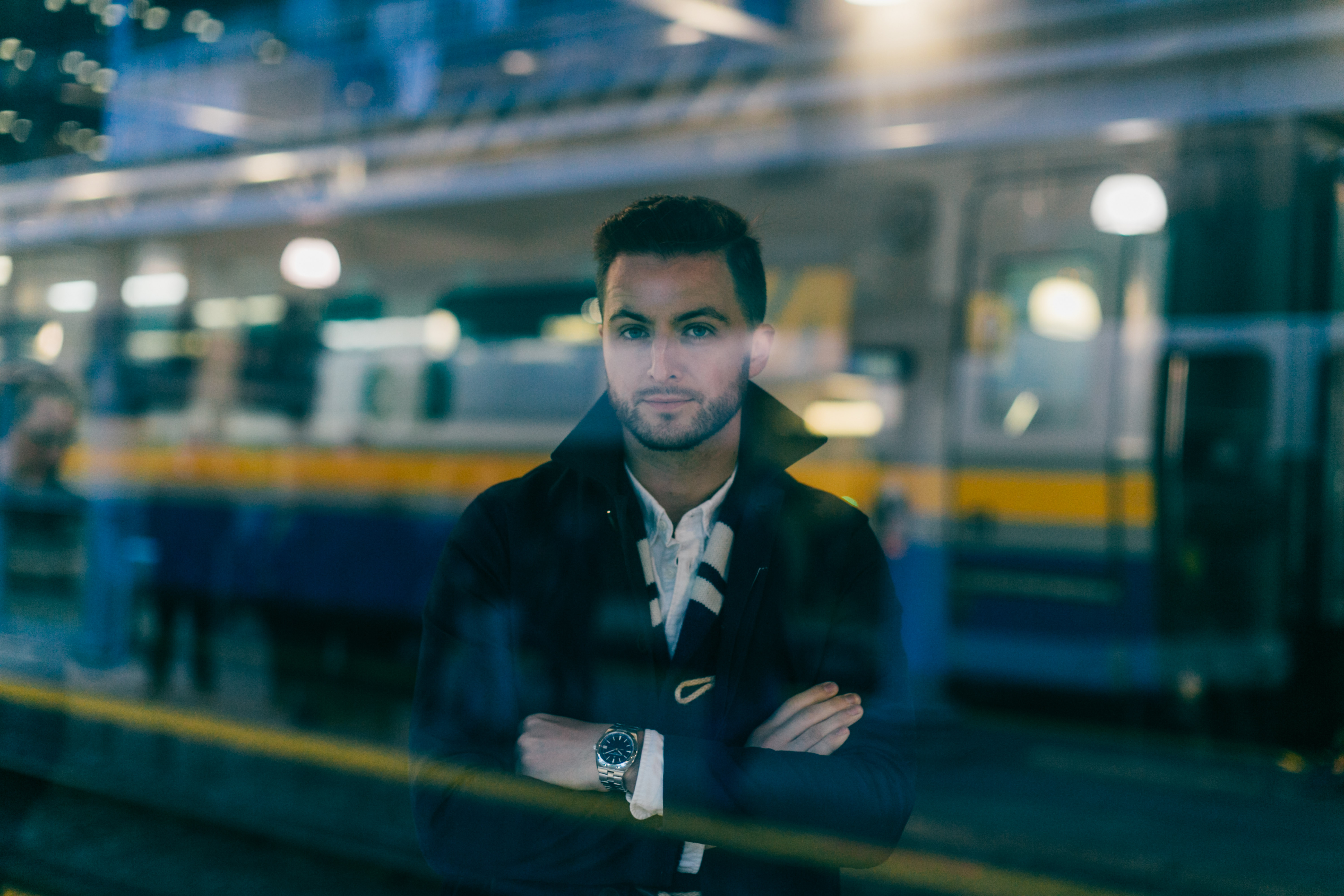 Jonathan Cavaliere's on to something.
Nevermind his eighteen thousand-plus Instagram followers, the myriad of menswear brands clamouring to use his face, or all the T.O. men who heed his words on proper layering via his blog, Mr. Cavaliere. And yes, this is an age of gluttonous social media consumption, one that's all but watered down the role of an influencer. Today, these digital stars and their staged-but-not-too-staged fiefdoms abound. Little separates the ones in it for the free stuff from the ones who, you know, wish to influence.
But Cavaliere doesn't mind this. He's looking past the likes, now. "You should check out the new site [mrcavaliere.com]," he booms over his phone while racing to our Niagara Street shop from an event. "It's not just a blog anymore, it's a lifestyle site. And I've got a team now… with an actual videographer!"
Cavaliere may seem like he doesn't take himself seriously, but don't be fooled — measured thought goes into everything this Woodbridge, Ontario native does, and wears. "People sometimes ask me how I'd describe my style, and I always say, 'J.F.K. if he were Milanese.'"
But he especially likes a good haircut. Like a lot of guys in the style game, Cavaliere gets that a great barber is as key to conducting a man's confidence as a great tailor. Good thing we put him with Jared Quast, our Aussie shop manager and hardened veteran of the tonsorial arts. "Jon knows exactly what he wants," says Quast. "And he's been getting this cut for awhile. Jon's hair is quite fine, and if you give him a high fade you'll barely be able to see the fade itself. So I gave him a lower fade. This way, you can see a nice blend from light at the base of his neck to dark around the top."
"I like the contrast of a classic side part with a skin fade, and I like pompadours," says Cavaliere. "I'm all about preserving what's old school, but I also need to keep it modern with a bit of edge. Balance is key for me, and really, that starts with a quality haircut. I'm picky about my cuts. That's why I come here."
How To Ask for Jon's Side Part: "Just ask the barber for a 'low skin fade meets a pomp,' which, again, will give you that subtle, gradual blend and some nice volume on top."
How To Maintain It: "I used a bit of this sea salt spray before blow drying it," advises Quast. "The sea salt gives fine hair a little more texture. And since he likes that natural, matte, finish, I topped it off with a little of Layrite's Cement Clay just to make sure it stays in place all night."
Photography by our own Richard Jansen
Follow Jon on Instagram
See more of Jared's cuts here