3 / 15 / 18
Mens Hair In The News


The Coolest Men's Haircuts You'll See In 2018
With men's fashion booming to no end, guys are finally wresting themselves from their comfort zones, and their hair's no exception. These days, we're doing layers up top like it's '91, crops, and some early Scorsese-worthy slick-backs. Here, a few of the key cuts you'll be seeing everywhere this year. With special thanks to our barbers Vi Bui, Rich Jansen, Josh Geniole, Evan Cicciarella and David Malone.
I. The Longer (And Textured) Cut 
We love our fades, but it's nice to see guys going longer these days. In fact, a good number of our clients are ditching their short haircuts, instead opting for all kinds of "tapers" (cuts that are scissor-based, with minimal-to-zero clippers needed).
Think rich texture, and the kind of length that's early John Hughes.
"I'm seeing more of this late '80s to early '90s thing," says Rich Jansen, a long hair enthusiast himself. "Hairlines are being left more natural and textured, and overall, lots of hairstyles are looking more carved out and shaped. This client (below) wants to grow hair, so this is a good example."
"We've all seen Stranger Things with Joe Keery [Steve Harrington], 2018's newest fashion and men's hair icon," says Vi Bui, who holds it down at our Frank + Oak shop. "He's got great mid-length, flowing hair that he can both wear slicked back or loosely, similarly to Julian Casablancas of The Strokes (pictured just below)." Bui suggests using a texture spray as a styling product, then blow drying the hair until it's dry. If you'd like, add a little matte clay to keep everything firmly, yet naturally in place.
"A lot of longer styles are in right now," says Evan Cicciarella. "I've done some long, trimmed slick-backs and side-parts, only without the tight fades." "And, you'll see more texture up top," adds our Josh Geniole. "Longer texture, but you'll still see some fades."
And don't forget—longer haircuts need upkeep, so make friends with a good shampoo and conditioner. And use them with regularity.
II. The Unfettered Fade
While length is having a moment, expect to see the familiar fade rear its face once the days get warm. "The one haircut I always see here is the side part [with a fade]," laughs David Malone, one of last recruits by way of Ireland. "Since I got here [last summer] I started calling it the 'Toronto Sidepart.' And when summer comes, you'll see a lot more fades, high and tight skin fades, buzzcuts, that kind of thing."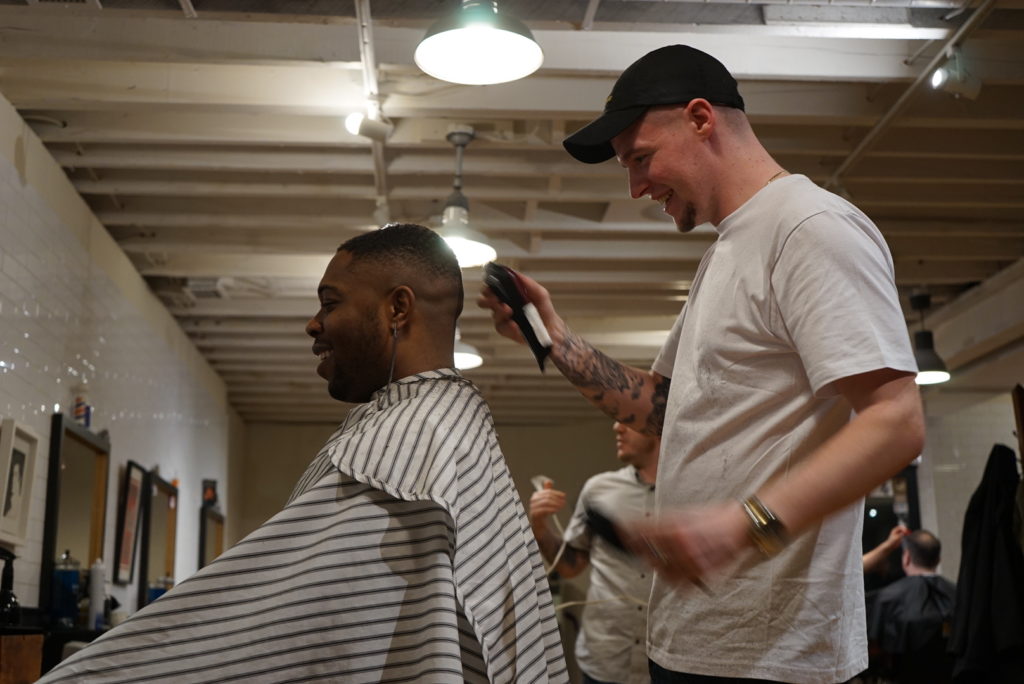 III. The Textured Spike
Ever notice how cuts that blow up in Europe make it here two, sometime's three years afterward? The "Textured Spike" is one of them. "With these, it's all about keeping a nice, squared shape up by the top of the head, then adding some texture." And as the football fanatic in Malone knows, the disconnected version of this thing has been Argentine ace Leo Messi's cut of choice since the fall. Check it out.
 IV. The Crop
Any trip to London is, for all intents and purposes, an exercise in hair style scouting (as is watching soccer, a spectacle in which wearing tattoos and impeccable hair is now as de rigueur as cleated boots). But Toronto's been shedding her conservative shell, even if it's taking a bit. Case in point — the "crop," a cut that's huge in the U.K., though we've gotten a couple requests for them of late. A "crop" is, as Malone describes, "a cut that starts with a blended skin fade on the sides, with some texture added on top. The crucial part's the fringe, which can be cut to look 'blunt' and straight down, or swept to the sides."
"I remember wearing this cut a year ago and thinking, 'This will never make it here,'" says Jansen. "But I'm slowly starting to see more people go for it."
"I have an Irish client who loves his crop with a bluntly chopped fringe," says Malone. "I've seen some crops around here, but not too many." To keep a one looking good, "start off with a pre-blow dry salt spray," says Malone. "No one goes around with a shiny crop. The matte clays and the powders are good for finishing them off."
V. The Final Word
As much as you might want a cut you've never worn, always consult your barber first and, as obvious as it sounds, listen to what they have to say. Why? Not all hairstyles suit every man. It's factors like the shape of your face and your hair texture that'll best decide which cut suits you best. And you want what suits you best.
In other words, Messi's spikes might not be for you, but a crop could work. Either way, don't be shy. Just ask.